This is the story of Nazmul and Nabila. They were made for each other, but did not get to
know about this divine decision until very recently. When Nazmul was born, his father Mr. Abdul Jabbar Talukder and mother Ms.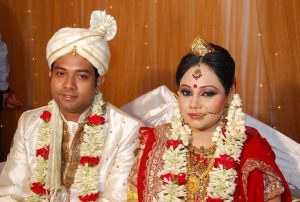 Fajilatunnessa were extremely delighted, and named their son Md. Nazmul Talukder. With lots of hope and anticipation, they raised their child with the most positive manners and values. While teaching the correct values to become a remarkable human being, they also did not forget to put him through a good education. With their inspiration, Nazmul completed his Masters and got a job in the marketing sector. With his hard work, he eventually became a manager in his organization. Nazmul turned out to be the perfect son his parents wished him to be. Even with all these accomplishments and staying in the right path, he felt an emptyness in his heart – he was missing his soulmate.
When Nazmul was about 5 years old, another person came to this world. Mr. Ashraful Obayed, and Ms. Nigar Sultana were blessed with a baby girl named Joynab Nabila Obayed. They were extremely happy with this new addition to their family and got busy raising her in the right mixture of cultural, religious, and social values. They put a lot of emphasis on education and wanted to have their daughter ready for the challenges of the modern world. With their support, and with her own tireless efforts, Nabila completed her BA Honors in English and started with Masters. She became an independent lady of 21st century and got a job as a banker in Bank Asia. Even with her independence backed by a solid education, she did not feel offended letting her father guide her and giving her shelter in the stormy waters of finding the perfect match for her.
Mr. Ashraful Obayed is a man with distinct qualities – one of them is being right in reading people. As a business man, he is required to deal with many people with different qualities. He is also a great father – who is always looking for the best for Nabila. Being a careful person, he was quite skeptical about using a matrimonial site like sensiblematch.com for finding the right match for his daughter. However, the world had become more connected and smaller, and it would probably be a missed opportunity if he did not try. He just did not want to take any chances when it came to his daughter's life. So, he signed up with SensibleMatch.com as a premium member and started screening all potential matches. He looked thru many candidates, but was not having any luck finding the candidate with the right set of attributes. He was about to give up when he stumbled upon the profile of Nazmul. He finally found the perfect match for their only daughter. The rest is history!
Nazmul and Nabila got married on May 17, 2011 at Officer's Club in Dhaka. It was the most eventful day for both families involved. When asked to comment on their experience with SensibleMatch.com, Nabila's parents expressed their satisfaction and agreed that sensiblematch.com lived up to their expectation. On the other hand, the parents of the groom were equally happy and delighted to welcome Nabila in their family. They threw a reception in her honor at White Hall in Dhanmondi following the main marriage ceremony.
We wish all the blessings from the Almighty on this perfect couple.