We are excited to congratulate Mr. Habibur Rahman, and Ms. Mariam Sultana on their happy marriage which took place on Feb 13, 2011. They found each other through SensibleMatch.com.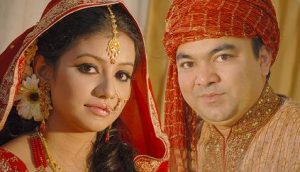 Mr. Rahman has an MBA from IBA and works as an Investment and Financial Analyst for a group of companies. After obtaining a proper education and landing a lucrative job, he was ready to take the plunge. One day, he was talking to a friend about his marriage. His friend recommended that he try a matrimonial website in Bangladesh. Agreeing with his friend, he started searching for a good matrimonial website using Google. He researched few websites and eventually decided to join SensibleMatch.com as he liked the user interface and he felt the site contained profiles of genuine people like him.
Ms. Sultana completed her masters and was now getting the attention of family members who wanted to see her get married. She was reading the newspaper one day, when an article regarding SensibleMatch.com caught her attention. She joined SensibleMatch.com just to check how the service was. She was impressed with the service when she got a call from the Customer Support Team before her profile got approved and activated. She kept coming back to the site from time to time to check the status.
After few days of visiting the site, Mr. Rahman found Ms. Sultana's profile. He became curious about her and sent her a Private Profile Access Request, which eventually got approved by her. At that point, he could see her full profile and got even more interested in her. Thinking she might be the "one", he sent a Contact Request to her so that they could communicate using the SensibleMatch MailBox. However, he had to keep waiting as she did not make any decision on this Contact Reqeust for a while.
Ms. Sultana tells us "When I first got the Contact Request from him, I sat on it for a while not knowing what to do. I was afraid that if I approve the Contact Request, he will get my phone number and I may not want that. However, later I learned that my phone number will not be shared with anyone. A Contact Request only allows both parties to send mails, nothing more. Then, I accepted his request."
After communicating via SensibleMatch MailBox, they eventually shared their phone numbers and started talking over phone. At this point, Mr. Rahman got his parents involved. They approved this match. On the other hand, Ms. Sultana got her brother-in-law, Mr. Md. Shaer, involved. Mr. Shaer liked this match and convinced other members of the family to approve it. Now the families took over the case, and Mr. Rahman and Ms. Sultana just had to sit back and relax.
The marriage ceremony took place on Feb 13 in Dhaka. Both the bride and the groom invited members of the SensibleMatch team to join the wedding. It was a memorable event for everyone present.
When asked about his impression of SensibleMatch, Mr. Rahman said "I am really happy to find my life partner from SensibleMatch.com in a very short time." Ms. Sultana expressed "All parents are worried about the marriages of their daughters. Because of SensibleMatch, my parents did not have to worry too much. SensibleMatch allowed them to get involved in the whole process without compromising privacy".
We asked the parents of both bride and groom of their opinions on this whole matchmaking process. Mr. Nazrul Islam & Mrs Hosne Ara Islam, parents of the groom, expressed: "We are extremely pleased to find our beloved daughter-in-law from SensibleMatch. We are truly indebted." Mr. Helal Uddin & Mrs. Rehana Akter, parents of the bride, expressed: " Even though we have been worried about the future of our daughter. We found SensibleMatch to provide appropriate level of service in this regard. We now know that Bangladesh had reached the digital age where a website can help families accomplish social matters like a marriage."