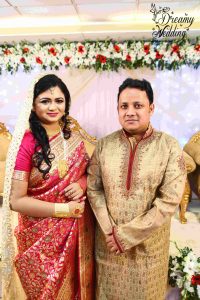 Ayasha Sultana & Md. Rokan Uddin got married in January of 2017. Here is an excerpt of an email we got from them:
On Sat, 28 Jan at 5:10 AM , Ayasha Ishita <xxxxxx@gmail.com> wrote:
"I'm Ayasha Sultana got married at 6 January, 2017 with Md. Rokan Uddin. We found each other through this wonderful matrimony site. Both of our families are happy now as well as the couple too. Thank you so much for helping us. We are wishing your company all the very best & praying for lots of success.. Honestly, after marriage, we can see that this matrimony site really wonderful. We are satisfied & thankful."
We wish all the best to this wonderful couple! Thank you for allowing us to share your story.